Supercharge your flipchart
Modern workspaces are changing. The digital revolution has given us many ways to collaborate remotely. But there's nothing like rubbing shoulders with colleagues in the conference room. In reality, today's meetings require a combination of both analog and digital communication.
The problem is that notes recorded on dry erase boards or paper easel pads are lost after each meeting presentation. But what if you could capture that analog input in your digital workspace? That's where the digital flipchart comes in.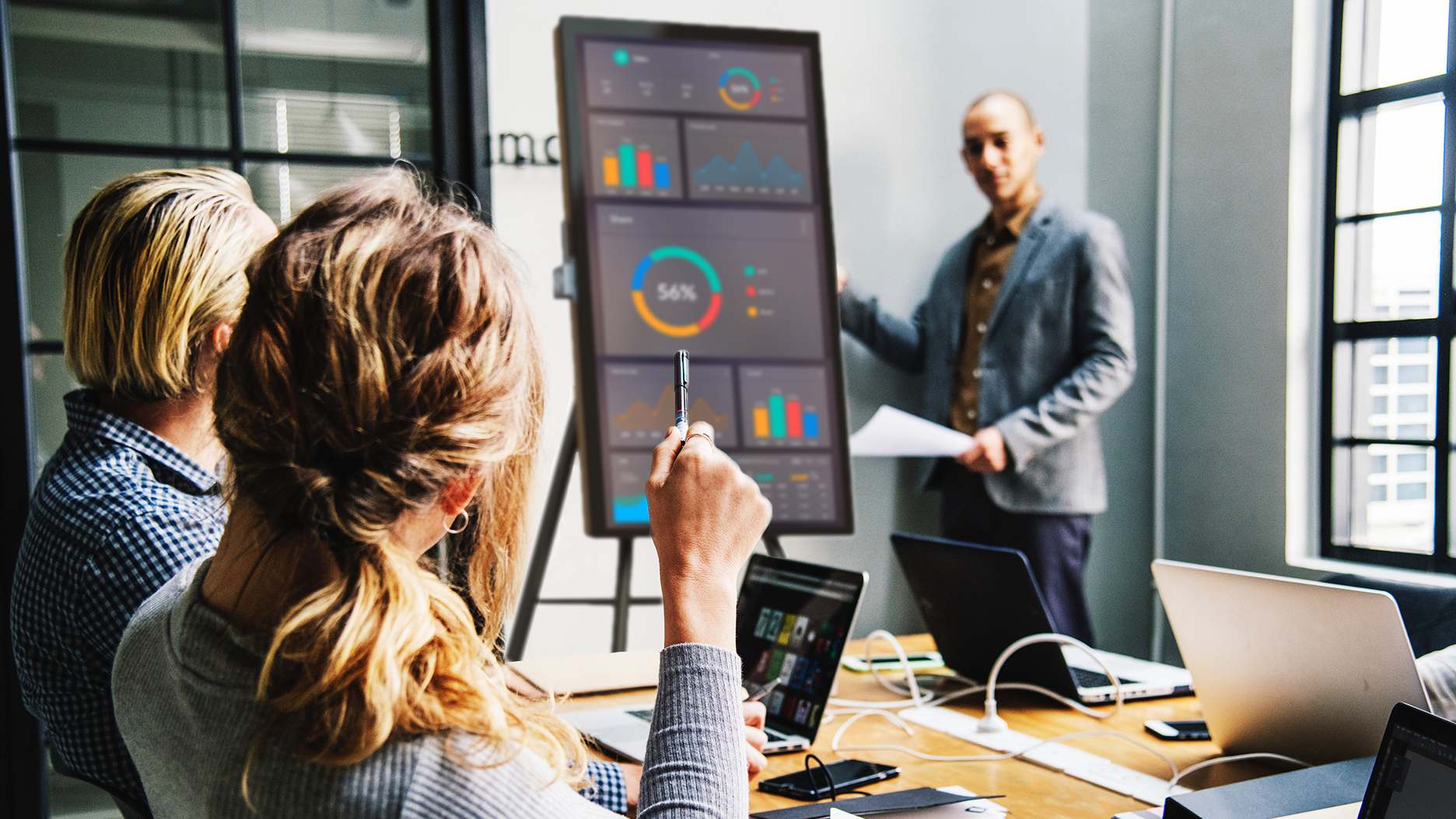 What is a Digital Flipchart?
By now, we're all quite accustomed to working in a digital environment. Who has secretaries anymore? In the 21st century, everyone has their own laptop or desktop computer. We all input our own ideas into our computers and share them across networks with others who are working on the same projects.
But without a secretary to record the minutes of our meetings, how can we make sure that the content of our important discussions finds its way into the digital record?
A digital flipchart can make this possible.
You all know what a paper flipchart is. The person leading the meeting uses a marker to put ideas on a blank page for everyone to see. When that sheet becomes full or cluttered, he simply flips the paper up and over the back of the pad and starts again on a fresh sheet of paper.
But what happens to all those ideas on the previous page? They are left to be stored with the used easel pad, usually forgotten, or simply tossed in the trash.
With a digital flipchart, none of that information is lost or wasted. Whatever is included on the flipchart screen can be saved or shared in the same way you would manipulate a file on your laptop. And you can rest assured that all the important things you talked about in your lengthy meeting will be preserved for future review, distribution, or analysis.


How can a digital flipchart change your meeting culture?
Easy sharing
A digital flipchart is all about sharing. It's easy to share the screen from your laptop or mobile device on the flipchart. In the other direction, you can share a PDF of your flipchart notes via email or QR code. Many people can contribute to the flipchart input, and the results of the collaboration can be refreshed and reused in future meetings.
Collaboration & co-creation
It's a collaborative tool that functions equally well in a live setting as well as in the digital workspace. Along with its note-taking capabilities, the flipchart screen can be used to show video or text. You can actually combine input from multiple sources and use additional pages to co-create an extensive collection of thoughts and ideas.
High mobility
It doesn't require a fixed location. You can move it from room to room as needed.
Easy access
Anyone can use it -- it's easy to learn. It's a simple tool that includes flexible options for input, output, and display.


What should a digital flipchart include?
There as some features that should be basic in any digital flipchart that you may be considering.
The first that comes to mind is easy whiteboarding. Can you easily write on the screen, and just as easily erase with the wipe of a hand?


What about internet browsing? Can you display all the major browsers and connect to the internet, either directly or through wireless connectivity to a device?


Speaking of wireless connectivity, you should be able to easily link your devices to the digital flipchart without fuss or cables. The power of the flipchart tool is in its connectivity to the digital world as well as its ability to receive touchscreen input.


How about video conferencing? Can you easily bring in remote presenters on screen for collaboration during the meeting?


A digital flipchart is more than glorified whiteboard
As wonderful as technology is, sometimes it can be more of a hindrance than a help. Good digital flipcharts should be able to overcome any clumsiness in digital interaction or on-screen human input.
Communication flow should be simple and intuitive, and the flipchart should be an effective extension of the interplay of ideas already taking place around the conference table.
Digital flipcharts can improve meetings and automatically capture ideas as they are presented. They can bring the power of digital to your meetings. That would be of great benefit to any business, large or small.
Have you already seen the i3SIXTY? The brand-new mobile and interactive digital flipchart from i3-Technologies? Click here to see how it can turn your office into a collaborative workspace.